Cake Types and Fillings
Here is a list of some of the decision you will have to make to design your perfect cake. Here at Blue Ribbon we offer you a vast selection of cake types, filling options and toppings. Please take a look, and if you have any questions call us and we will be glad to help you.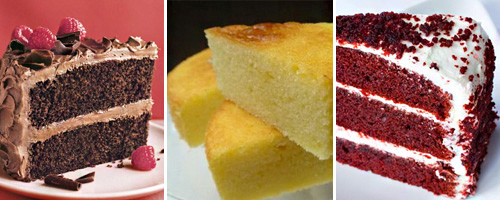 Cakes Types

Yellow Cake
White Cake
Chocolate Cake
Sponge Cake
(Pao De Lo)
Red Velvet Cake
Carrot Cake
Tiramisu Cake
Rum Cake
Tres Leches.
Napolean

Preserved Fruit Fillings

Strawberry
Banana
Pineapple
Lemon
Cherry
Raspberry
Apricot
Blueberry

Fresh Fruit Fillings

Banana
Strawberry
Pineapple
Peach
Blueberry
Raspberry
Kiwi
Mango

Puddings

Vanilla
Chocolate
French
Chocolate Fudge
Chocolate Butter Cream
Vanilla Butter Cream
Mocha
Oreo
Tiramisu
Whipped Cream
Dulce De Leche
Ovos Moles
Cream Cheese
Canolie

Toppings

Fondant
Vanilla Butter Cream
Whipped Cream
Chocolate Butter Cream
Chocolate Fudge
Mocha
Tiramisu
Cream Cheese
Ovos Moles
Dulce De Leche
Fios De Ovos
Rum

Mousses

Chocolate
Raspberry
Strawberry
Banana
Vanilla
Dulce De Leche
F.A.Q.
Ordering a cake
You may place your order via email or over the phone. To a more intricate cake design you may want to make an appointment for a consultation.
What to expect at the consultation
Before you come in, be prepared, have a sense of what you are looking for.
You will be able to discuss all the details about your event, like style, theme, colors, invitation, flowers, dress details and much more directly with our staff. We will personally work with you to create that special cake. Also, you will be able to sample two of our cake flavors and fillings.
After the consultation how long will my date be available?
We don't rush our clients to make a decision, but keep in mind a 50% non-refundable retainer is required to reserve your cake. All orders are due 2 days prior the event.
We accept cash and credit card (Visa, Master Card and American Express Card).
How far in advance should I order my cake?
Considering that all cakes are made to order (meaning cake design and cake flavors) we need 1 to 2 weeks lead time. For a last minute cake, please contact us, we will be happy to accommodate your order.
Cake Prices:
We don't have a set price for our specialty/ sculpture cakes, please contact us for a quote. Keep in mind that more elaborate, intricate the cake is, the greater price range you will be looking at.
Do you deliver?
Yes, we do deliver to NJ, NY, CT, PA. Please contact us for delivery charges.